In the event of any emergency disrupting utilities and the food supply chain for any period of time, you are going to find yourself relying on the usable food you have stored at home until things are back in order. You should have thirty days worth of non-perishable and easy to prepare food for each person in your home as part of your emergency supply stock.  Full kits with dehydrated and freeze-dried meals are great food solutions during any disaster loss of regular food availability.
Our Choices for Full Meal Kits
Mountain House Essential Bucket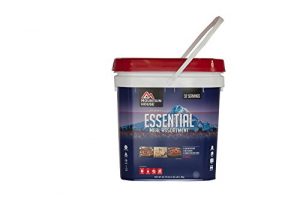 The bucket has a super long storage life of up to 25 years.  The meals are easy to prepare with water and less than ten minutes of cooking time. Outdoor enthusiasts enjoy Mountain House meals and find them equal or superior to freshly prepared food.  These meals are ideal for emergency food storage and all disaster preparation uses.
NuManna INT-NMFP 144 Meals, Emergency Survival Food Storage Kit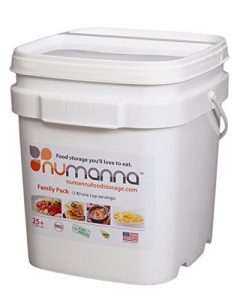 The NuManna bucket also provides up to 25 years of storage life.  All the kit's food is GMO-free, Soy-free, and MSG free, with no HFCS.  The bucket also provides a nice variety of different foods.
What's in your freezer isn't enough
The average American home has less than a week's worth of food on hand, so some planning is in order for most of us. Proper nutrition becomes even more important in an emergency than in normal times. In an emergency, you should provide your body with the nutrition it needs not just to survive, but to thrive. Improper diet added in with the mental and physical stress of a disaster is an unnecessary strain. Malnutrition under stressful conditions affects cognitive ability and the body's immune system in significant ways. Stress generally increases heart rate and metabolic rate. Disruption of normal nutrition in emergency conditions also adversely affects a person's emotional well-being. In the event of a disaster causing any extended loss of services at your home, you should plan ahead to make adequate, nutritional, and enjoyable food the least of your worries.
Even if you have a freezer stocked with food, you need to consider the likelihood of some failure of the freezer and the accompanying loss of food. Your freezer likely contains some really important food, but it may not have food with the nutritional balance you will need in the event of a prolonged loss of services emergency. Your pantry should be stocked with a good supply of canned goods, pasta, crackers, and peanut butter.
The advantages of packaged meals
For your emergency survival food planning, you should look for foods you can easily store in a cool, dry location. The simplest and safest plan in modern times usually involves purchasing survival meal kits.
These kits offer several important features. They are self-contained and complete. You don't have to forage or scrounge up any other products to use them, and they do not involve the level of planning and execution necessary for a completely do-it-yourself kit. You certainly do not want to be in a position of looking for ingredients and getting involved in extensive food preparation under emergency conditions.
They typically have very long shelf lives (up to 25 years in most cases). They are easy to store, and meals are packaged individually, not in large cans or bags.
The better products have excellent nutritional content and calories for good health and are tasty and appealing. Most better kits include a variety of different foods as well. Some manufacturers offer breakfast meals as part of their kits.
The long-established and popular meal kit brands have devoted customers who have actually used their food products for years. Look especially for the brands that are popular with backpackers and campers. If the outdoor specialists rate a food product highly, it's a safe bet that they have actually eaten the food and enjoyed it.
What you will need to cook meals
Meal preparation and cooking from a meal kit is not difficult. You just need a working stove eye, a pot, and some water for pretty much every item in almost every kit. If you are already a good cook, you won't have any trouble preparing tasty hot meals quickly. Even if you don't know anything about cooking, the process is simple and more or less foolproof if you just follow the directions. If you have butter available, it makes a nice addition to most kit meals. It's not necessary, but it adds to the quality of the meal.
Most meal kit manufacturers underestimate the serving size many people will want at each meal in an emergency. You should study the manufacturer's information regarding serving size. You will likely want to plan for more than one rated serving per person per meal.
Food kits all require water for food preparation.  The packaged meals are dehydrated and freeze-dried foods, and usually contain foods like rice and beans that require a good bit of water for preparation. Check the needs of the food plan you choose and factor the water requirements into your water storage plan.
Of course, water is at a premium during an emergency, and you should have a month's worth of paper plates and utensils on hand for all of your food preparation needs. You can break out the silverware and good china again when the lights and water are back on.
Product Details
NuManna INT-NMFP 144 Meals, Emergency Survival Food Storage Kit, Separate Rations, in a Bucket, 25 Plus Year Shelf Life, GMO-Free
Mountain House Essential Bucket
Features
Super Long Storage Life -- Up to 25 years storage life
High-Quality Food -- GMO-free, Soy-free, MSG free; no HFCS
Tasty Food with High Variety
Super Long Storage Life -- Up to 25 years storage life
Easy Preparation -- Just add water and meals are ready in less than ten minutes
Industry Standard for Meal Quality -- Outdoor enthusiasts enjoy Mountain House meals and find them equal or  superior to freshly prepared food 
Ideal for emergency food storage and all disaster preparation uses
Item dimensions
13.50 X 14.00 X 12.50 X 20.00 in
13.00 X 10.00 X 12.00 X 6.51 in
Pricing / Order Info
Estimated price difference
Lowest price + 28.9% more
Amazon Prime


Selling Best on Amazon right now

153358

2
Product Comes from Amazon warehouse


Package dimensions
13.00 X 13.00 X 14.00 X 21.00 in
9.80 X 11.70 X 13.80 X 6.50 in
Product Identifiers
MPN;
Model;
Part Num;
Sku;
INT-NMFP
INT-NMFP
INT-NMFP
-
4014437
80663
4014437
4014437