When disasters strike, food supply systems are often disrupted.   Your caloric needs will be increased during emergencies, and a complete non-perishable food supply at home is essential to survival.
In addition to full meal emergency preparation, you should also stock some food bars and powdered drinks for short-term disaster survival.  Ready to eat food bars and packaged snacks provide high-calorie food in individually sealed packages with a long shelf life. In creating your disaster food use plan, calculate your family's caloric needs and enhance your plan with a healthy supply of packaged food bars and snacks.
Our Choices for Emergency Ready-to-Eat Food
Grizzly Gear Emergency Food Rations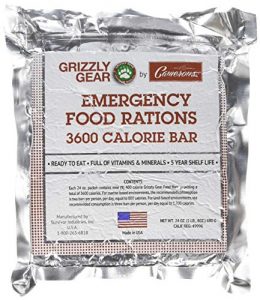 This survival food comes in packages that each can supply one person up to three days with nine 400 calorie rations. The rations bar is vitamin and mineral enriched and exceeds FDA requirements.  The vacuum packed bars have a five-year shelf life.
S.O.S. Rations Emergency 3600 Calorie Food Bar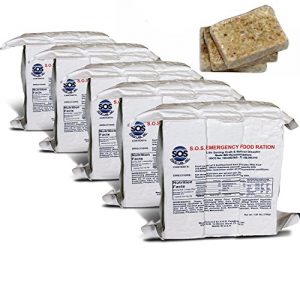 This kit includes five packages, each of which can supply one person up to three days with nine rations totaling 3,682 calories.  This coconut flavored bar is USCG approved and has a five-year shelf life.
Snack Chest Healthy Bars & Nuts Care Package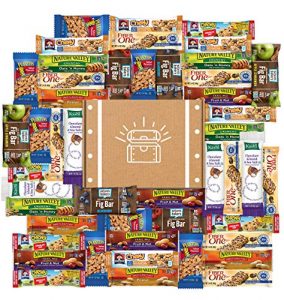 This 60-pack variety bulk sampler Includes Kashi, Fiber One, Quaker, Fig Bars, Nature Valley, Planters, and other snacks.
Snacks are Important
Packaged food bars and snacks are generally very resistant to temperature extremes.  Survival food bars should be stored in a dry container along with your other food provisions.
During times of stress and fatigue, calorie and sugar boosts are essential to comfort and well-being.  Most food bars also have protein-rich ingredients and provide sustained energy. Supplemental protein is great for keeping hunger under control, as well as supporting brain and emotional function.  If you experience a loss of services during cold weather, steady calorie and protein intake will work wonders in adding to body warmth and comfort.
Regular Snacks and Survival Packages
Generally, you will find two varieties of packaged and ready to eat food bars.  First, there are the common snack and health bars you see on sale at the grocery.  Also essential for your disaster recovery food plan are the survival type bars, normally sold by specialty retailers and designed as high calorie and nutritional supplements.
Familiar Snacks
The common grocery store variety of food bars and snacks are ideal for short term disaster survival in the home.   Kids especially love these snacks, which can be consumed at any time without any preparation. Simple comfort foods like packaged snacks go a long way towards keeping kids and adults satisfied and content.  Nothing builds morale in a time of crisis like the normalcy of having familiar foods on hand. You will want to plan to additionally include a supply of the kids' favorite packaged snack foods just for that purpose.
Another great thing about keeping plenty of packaged food bars and snacks on hand is that you can easily rotate fresh stock into your storage supply every year.  The year-old packages you rotate out for current family consumption will be absolutely indistinguishable from brand-new packages bought at the store.
Survival Bars
In addition to common packaged food bars and snacks, consider stocking some survival food bars as well.  In the event of a long period without services or some failure with your cooking system, these high-density survival bars are very handy.   These types of ready to eat bars do not provoke thirst and good brands are densely packed with calories and nutrients. These bars do not provide tasty meals, but they will keep you going if other nutrition options are not available.  Most good brands have a long shelf life and provide around 1,200 calories per day per person. These types of bars normally come in vacuum sealed packages which need to be stored intact until they are to be used. These types of survival bars do not necessarily need to be considered a food of last resort, as they can be used as supplements of 400 or so calories at a time if needed.
Powdered Drinks
In addition to solid food bars and snacks, also consider some powdered drink and powdered milk products.  Good powdered drinks provide electrolytes and immediate energy and maximize the value of the hydration you will get from your water supply.  Immune system support during extreme weather in emergency conditions is invaluable. Powdered milk provides similar benefits, and is very useful in cooking emergency meals as well.  
Product Details
Emergency Food Rations 5 Pack - 3600 Calorie Bar - 15 Day Supply - Less Sugar and More Nutrients Than Other Leading Brands - (5 Year Shelf Life)
S.O.S. Rations Emergency 3600 Calorie Food Bar - 3 Day / 72 Hour Package with 5 Year Shelf Life- 5 Packs
Snack Chest Healthy Bars & Nuts Care Package Variety Pack Bulk Sampler Includes Kashi, Fiber One, Quaker, Fig Bars, Nature Valley, Planters & More (60 Count)
Healthy Snacks and Bars Variety Pack Gift Snack Box - Bulk Sampler (Care Package 56 Count)
Oxylent, 5-in-1 Multivitamin Supplement Drink, Variety Pack, 30 Packet Box
Features
Survival Food -- Each package can supply one person up to three days with nine 400 calorie rations.
Vitamin and Mineral Enriched -- Exceeds FDA requirements
Non-Thirst Provoking -- Lemon Flavor
Five-Year Shelf Life -- Vacuum packaging withstands extreme temperatures
Survival Food -- Five packages included; each package can supply one person up to three days with nine rations totaling 3,682 calories
Vitamin and MIneral Enriched -- USCG approved
Non-Thirst Provoking -- Coconut Flavor
Five-Year Shelf Life -- Vacuum packaging withstands extreme temperatures
Variety Pack -- Assortment of Snacking Favorites
Individually Packaged for Easy Use and Storage
Individually Packaged -- Wide variety of snack favorites for any occasion
Ideal for Emergency Food Supplement Preparation
Great for Emergency Planning -- Provides vitamin and mineral supplements along with hydration
30 Individual Serving Packages
Item dimensions
4.00 X 9.00 X 11.00 X 2.10 in
5.75 X 3.00 X 5.72 X 0.60 in
Pricing / Order Info
Estimated price difference
Amazon Prime




Selling Best on Amazon right now

85050

26959

35471

2742

13912
Product Comes from Amazon warehouse




Package dimensions
6.00 X 6.50 X 6.60 X 7.70 in
4.96 X 6.14 X 11.02 X 9.35 in
4.10 X 10.00 X 13.20 X 5.65 in
5.40 X 8.80 X 11.10 X 5.40 in
3.00 X 4.30 X 5.80 X 0.60 in
Product Identifiers
MPN;
Model;
Part Num;
Sku;
3600_5pk
-
3600_5pk
3600_5pk
ASINPPOSPRME32904
PRTAZ11A
ASINPPOSPRME32904
ASINPPOSPRME32904
897314002000
Variety Pack - 30 Packet
897314002000
897314002000