If you are faced with any long-term emergency at home that requires a safe water supply and a reliable fuel source, you will need appropriate and adequate containers and tanks to provide drinking water and usable fuel for your appliances and generator.
Our Choices for Water and Fuel Storage
API Kirk Containers 5 Gallon Samson Stackers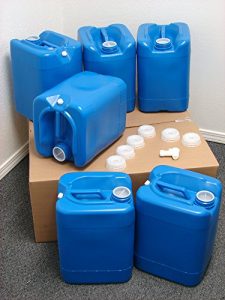 These portable water containers are ideal for storage in your garage or shed and for use indoors when any emergency might arise.  These containers are stackable and designed for virtually any storage space configuration.  These safe water containers are BPA free and are made from HDPE polymers.  They are food-grade and FDA compliant.
Augason Farms Water Storage Barrel 55-Gallon Drum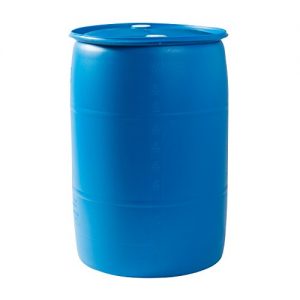 This high capacity 55 gallon drum provides for accessible and safe drinking water during any emergency or disaster.  This food grade container is BPA free and meets all EPA guidelines.
Midwest Can 5600-4PK Gas Can – 5 Gallon Capacity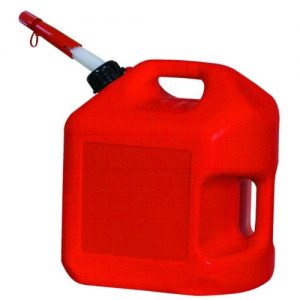 These fuel containers are ergonomic and easy to store.  These HDPE polymer containers are EPA compliant and also exceed all California environmental standards.
Water Supply Storage
The most critical survival necessity is water. Three days without water and nothing else will matter. When access to water is interrupted, the only water available will be what you have on hand. If you are forced to depend on being able to borrow or barter water or collecting what you can from rain you will be facing an immediate life and death situation.
FEMA recommends that you have at least a two-week supply of emergency water, and that is indeed the bare minimum that you want to keep in stock. Given the low marginal cost of additional storage, you should consider at least thirty days of water per person as your minimum. Each member of your family will need at least one gallon of water a day for drinking and hygiene requirements. You should carefully plan how water will be rationed in the event of an emergency, as it is your most valuable resource. Ordinary personal hygiene and cleaning will be on indefinite standby while you wait out an emergency loss of services. Your stored water should be rotated at least every six months.
You should store water in UV-resistant, food-grade plastic containers. The safest containers are polyethylene-based plastics. High-Density Polyethylene (HDPE) containers are also safe from BPA contamination.
Suitable water-storage containers can be large underground storage tanks down to small aluminum cans. The most important considerations are the material your container is made from and whether it is safe for storing water for human consumption. Consider also your storage capabilities. Your garage should be ideal for water storage, in that you want a covered location completely isolated from sunlight and extreme temperatures. You also want a location that is easily accessible when it is time to rotate your water stock, or when you need to access your water in the event of an emergency. You want to be certain that your containers are completely sealed and stored on a flat and level surface.
Standard bottled water is also great to keep on hand for emergency purposes. Bulk size cases are usually reasonably priced and it is very easy to rotate bottles in and out of your supply for everyday drinking water, especially during hot weather when outdoor activities are at their peak. These types of containers are not stable for long periods, so you should plan for very regular rotation of stored bottled drinking water.
There are also many water purification and filtering products available. Remember that your primary emergency source of water should be your stored water. You will want to consider purification and filtering as a backup plan, but you will want to have a reliable and ready source on hand for at least thirty days. In an emergency situation, you need to have your water supply stable and in place. If you are scrambling for water, every other consideration will pale in comparison.
Gasoline and Propane Storage
Your emergency preparation plan should also include adequate storage of gasoline and propane.
For gasoline, shop for containers that meet all EPA requirements. For gasoline storage, you will be interested in greater portability, as you are likely to rotate gas stock into your vehicles, lawnmowers, and other gas burning motors. Five-gallon containers are an ideal size for use, and you can usually get multiple containers per pack for more cost efficiency. You should use only ethanol free gasoline, available at select service stations, for your emergency gas supply.
Propane is useful for emergency needs as well as everyday use. You can use tanks of the same type you use for your outdoor barbecue grill to store propane for your emergency generator and heater needs. The standard size tank is twenty gallons but you can get a variety of larger sizes. You should budget your emergency propane needs and add extra tanks to your normal rotation. You can fill your propane tank at many hardware and home supply stores.
Product Details
5 Gallon Samson Stackers, Blue, 6 Pack (30 Gallons), Emergency Water Storage Kit - New! - Clean! - Boxed! Spigot. Cap Wrench.
Augason Farms Water Storage Barrel 55-Gallon Drum
Midwest Can 5600-4PK Gas Can - 5 Gallon Capacity, (Pack of 4)
Features
Portable -- Ideal for storage in garage or shed and use indoors when any emergency might arise
Stackable -- Designed for virtually any storage space configuration.
BPA Free and Safe -- HDPE polymer construction; food-grade and FDA compliant
Resealable and Reusable -- Each kit also includes one reusable spigot.
High Capacity -- 55 gallons of accessible and safe drinking water during any emergency or disaster
BPA Free
Food Grade -- Meets all EPA guidelines
Ergonomic and Easy Storage -- Two handles on each can
EPA Compliant -- Also exceeds all California standards
Durable and Safe -- High-quality HDPE construction
Item dimensions
15.00 X 11.00 X 12.00 X 2.50 in
35.00 X 25.00 X 25.00 X - in
10.00 X 21.00 X 24.00 X 11.50 in
Pricing / Order Info
Estimated price difference
Lowest price + 62.4% more
Lowest price + 73.7% more
Amazon Prime



Selling Best on Amazon right now

38797

34074

14824
Product Comes from Amazon warehouse


Package dimensions
12.00 X 21.00 X 44.00 X 23.00 in
22.50 X 24.00 X 36.00 X 25.35 in
14.00 X 21.25 X 26.50 X 12.50 in
Product Identifiers
MPN;
Model;
Part Num;
Sku;
6-00425
6-00425
6-00425
6-00425
5600-4PK
5600-4PK
5600-4PK
5600-4PK