During most natural disasters, the most vulnerable of our normal services is our electric service. Any break in the supply line to your home can cause extended loss of electricity. Our electrical grid is also always threatened by man-made and terroristic emergencies.
Nothing is as essential to modern life as ELECTRICITY! Although your short-term disaster survival plan will provide everything you need to survive without electricity, adequate emergency power will provide the ordinary comforts of home life and allow you to protect your family and home.
Westinghouse iGen2200 Super Quiet Portable Inverter Generator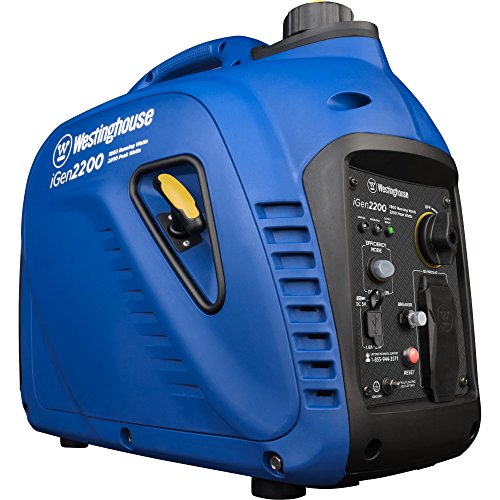 This generator is light and portable, weighing only 46 pounds. This gasoline powered generator produces 1,800 rated watts and 2,200 starting power watts. It has two 120V 20 amps outlets and also two USB outlets. It is fuel efficicent with a 12 hour run time at 25% load.

Champion 3500-Watt Dual Fuel RV Ready Portable Generator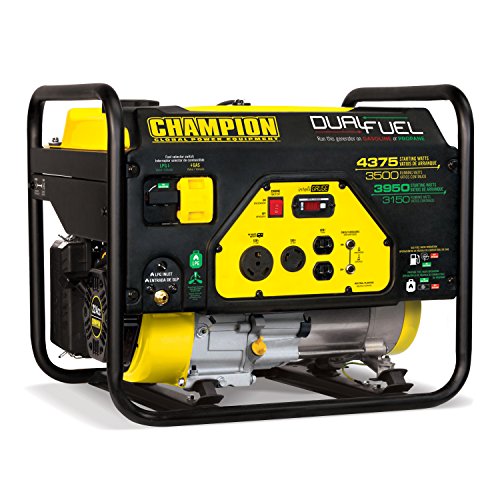 This generator operates on either gasoline or propane and produces lots of power with 3,500 running wats and 4,375 starting watts on gas fuel and 3,150 running watts and 3,950 starting watts on propane. The generator is equipped with two household 120V 20 amp outlets and two 120V 30 amp RV and locking outlets.
How Much Power Do You Need?
In shopping for the best emergency generator for your home's needs, you should consider what your total power needs are in the event of an extended loss of electrical service.
Check the manufacturer information for each essential appliance to determine wattage demands for each, and total up the wattage you expect to need and how long you will need it each day.
Most appliances do not need continuous power to be useful. Your refrigerator and freezer will safely preserve your food supply if they are supplied with power long enough each day to maintain their proper temperature. Also, look carefully at your appliances' labels and the actual manufacturer's information. An 800-watt microwave may actually need up to 1,500 watts to operate.
Most portable generators can produce adequate wattage to power your home's essential appliances in some rotated use. With some planning and strict adherence to your energy use plan during a loss of services, you will be able to maintain your home's essential electrical needs.
Portable generators are rated for running watts and starting watts. A generator's running watts capacity relates to your home's running watts demands.
Running (or rated) wattage generally refers to the amount of continuous energy needed to run connected appliances.
Starting wattage relates to additional energy needed to start up other appliances that use motors, such as a refrigerator or freezer. Carefully consider the starting wattage demands of your most high-demand appliances when selecting a generator.
Of the generator brands we recommend, Champion Generators win in the category of power selection. They have a vast wattage selection, all with excellent reviews:
Electrical Safety
Safety is the highest concern when planning the use of your emergency generator. Advance planning is essential for providing electricity to your home safely. You should carefully consider if you will be able to directly connect your essential appliances and equipment to your generator by direct extension cord. Extension cords can power smaller appliances inside your home, including your refrigerator, freezer, water heater, lamps, TV, and computers.
If you determine that you need to connect your generator to your home's wiring system, you must consult with a qualified electrician for assistance. Improperly connecting a portable generator directly to your household wiring can create a deadly electrical hazard. A generator can back feed electricity into the power lines servicing your neighborhood, causing electrical danger for utility workers and other persons nearby. If necessary, a professional electrician can install a transfer switch into your home's electrical panel to switch the power supply for selected circuits from the electrical grid to your emergency generator.
Your emergency generator must be used only outside of your home. You should store your generator in your garage or storage building, but plan a location for it outside the home for use. Portable generators produce exhaust like any combustion engine, and the exhaust contains concentrated and deadly carbon monoxide. Your generator should never be used inside your home, your garage, or any enclosed space. Do not plan to use your generator near doorways, windows, crawlspaces, or anywhere that air is likely to come into your home. Carbon monoxide can kill in only minutes; there is no room for error in this regard.
Fueling Your Generator
Most portable generators run on gasoline. In order to determine your gas storage needs, you will want to compare your budgeted power needs to your generator's fuel efficiency. You may need to plan to keep thirty or more gallons of gas on hand for a week without normal electrical service. As is the case with all small motors, you will want to only use fuel that has no ethanol additives.
Of course, gasoline has a short shelf life, and you will want to have a plan in place to rotate your stock regularly. You will not want your stored gasoline to age more than three to six months at most. If you have other gas needs such as lawnmowers or other outside equipment, you can rotate your gasoline supply with use for those. In any case, you can rotate your fuel stock out to your family vehicles when it is time to replace your emergency fuel stock.
Never refuel your generator while it is running, is still hot, or has any electrical cords connected. Of course, you should carefully read and understand all of the manufacturer's instructions and warnings for the generator you choose.
Many portable generator models are also able to run off of propane. The versatility of propane as a secondary fuel source can be very valuable. Having extra propane tanks available for your outdoor grill will mean additional fuel for your generator.
Maintaining and Protecting your Generator
You should give your generator a good workout when you first get it home and then run it for a bit at least every couple of months. Like all small motors, generators require regular use and some maintenance to ensure it will be ready and good to go when you need it.
It may be advisable to come up with a security mechanism for your emergency generator. You might want to have a secured platform for the generator and a way to secure it to some solid fixture on your property. Generators make noise when they are in use, and unfortunately the sound of a generator running during an emergency situation may attract the attention of someone willing to steal your power source.
Product Details
Westinghouse iGen2200 Super Quiet Portable Inverter Generator - 1800 Rated Watts and 2200 Peak Watts - Gas Powered - CARB Compliant
Champion 3500-Watt Dual Fuel RV Ready Portable Generator
Features
Light Weight and Portable -- only 46 pounds
Gas Powered High Wattage Production -- 1.2 gallon gas tank and 1,800 rated watts and 2,200 starting power watts.
Two outlets -- 120V 20 amps and also two USB outlets
Quiet and Fuel Efficient -- only 52 decibels output and 12 hour run time at 25% load and also has Maximum Fuel Efficiency mode
Duel Fuel -- This generator operates on either gasoline or propane.
High Power Wattage -- Lots of power with 3,500 running wats and 4,375 starting watts on gas fuel and 3,150 running watts and 3,950 starting watts on propane
Multiple Outlets -- Two household 120V 20 amp outlets plus two 120V 30 amp RV and locking outlets
Item dimensions
17.91 X 11.22 X 19.69 X 46.30 in
20.00 X 19.10 X 23.20 X 104.90 in
Pricing / Order Info
Estimated price difference
Lowest price + 78.0% more
Amazon Prime


Selling Best on Amazon right now

11623

78649
Product Comes from Amazon warehouse


Package dimensions
12.99 X 18.74 X 20.98 X 52.80 in
20.20 X 22.10 X 28.40 X 118.00 in
Product Identifiers
MPN;
Model;
Part Num;
Sku;
iGen2000
iGen2000
iGen2000
iGen2000