In the event of a lengthy loss of electric service, you will need to have a backup emergency plan for meal preparation and heating water.  You should plan for easy and useful indoor cooking in the event other options are not available, and you need an emergency cooking system ready to go. If you have a gas stove, you should have service in most cases after a loss of electricity for at least a while. Your outdoor propane grill is also useful for some food preparation, so long as you have propane. However, an outdoor grill is extremely inefficient for many cooking needs and is obviously not very useful for heating water or quick cooking tasks, or in extreme weather conditions.  Simple non-electric cooking equipment will provide you with safe and efficient meal preparation and water heating while your power is out.
Our Choices for Non-Electric Cooking Devices
Gas ONE GS-3000 Portable Gas Stove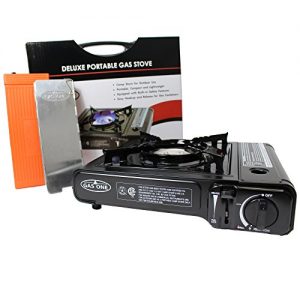 This stove provides safe and efficient indoor cooking power during power outages or any other emergency.  It is also ideal for outdoor use and has a built-in windscreen.
Iwatani of America ZA-3HP Portable Butane Stove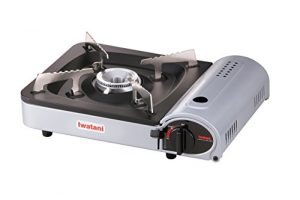 This 12,000 BTU stove is approved for commercial indoor use and comes with a protective carrying case.  This stove also works fine for any type of outdoor cooking.
12 Butane Fuel GasOne Canisters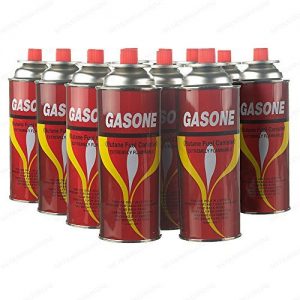 It is imperative to keep plenty of butane on hand that will quickly attach to your emergency stove.  These are durable and can be stored long-term.
Cooking without Electricity
With a proper indoor emergency cooking system, you can boil or heat water as fast as you can with your normal stove-top. You will be able to properly cook meals in the same way that you would on your stove. In any event, you will not be planning emergency meals that require baking or extended cooking times when your electricity is out. For safety and fuel conservation, quickly prepared hot meals on a single stove eye are what you are looking for.
First, consider what type of indoor cooking system you need. There are many different types of cooking systems available, although many are not designed for safe indoor cooking.
There are trade-offs with every type of cooking system. Many of the cookstoves you will see are intended for outdoor-only use and are wood or paper burning. Many others use fuels that might not be suitable for indoor use.
Simplicity is Key
A simple butane or propane canister fueled stove will serve nicely for your short-term disaster needs. Many butane cook stove models are ergonomically similar to your normal cook stove home hardware. These types of stoves do not require any specialized fire-starting skills and operate essentially just like your normal stove top.
Preferable models are simple single burner units that you can use safely and easily on your kitchen countertop. They are similar in appearance and functionality to side burners on some types of outdoor grills. They generally are designed to be very simple to use, with spark ignition starting and familiar looking knobs for flame control. Many of these types of models are not as common in hardware or outdoors stores, as they are usually designed for caterers or food services. However, they are easy to find and compare online.
Safety Considerations
Butane stoves are used all over the world for limited and specialized cooking purposes and are an excellent choice for short-term emergency cooking in your home. Butane stoves use a standard sized canister of butane fuel. Each canister can be expected to supply the stove for up to two hours of cooking time. Additional canisters are reasonably priced and available online as well. You should store your additional butane along with other emergency fuels in a safe and accessible location. With a bit of consideration for ventilation, butane is safe for indoor use in your home. It generally burns completely with no waste, residue, or fumes.
With any indoor combustion, there is some risk of some carbon monoxide production, so you will want some level of ventilation with butane stove use. Your battery-powered indoor carbon monoxide detectors will assist in making sure that you have adequate ventilation and open air for your indoor stove hardware. You can generally think of the uses you see of warming trays with catered food or on a buffet as a safely ventilated use. Most uses of properly functioning butane stoves will not trigger carbon monoxide detectors in open rooms even at ten feet away.
Butane vs. Propane
While small butane stoves are not ideal for outdoor use in below-freezing temperatures, one will serve your kitchen space nicely when used for short term disaster survival cooking.
Propane-fueled indoor stoves are also available but are generally not as user-friendly as butane stoves, and the propane fuel tanks are heavier and take up more storage space. Additionally, you should consider higher levels of ventilation with propane use to avoid the dangers of carbon monoxide. However, if you think you may do any outdoor or cold-temperature cooking, propane may as more suitable for you than butane. A propane stove makes a nice camp stove but is not a replacement for a safely stored and immediately accessible home emergency stove.
Butane stoves are an excellent choice for cost-efficient emergency planning. Nothing else can provide the normal comfort of home during a loss of normal services like hot food or a hot cup of coffee.
Product Details
Gas ONE GS-3000 Portable Gas Stove with Carrying Case, 9,000 BTU, CSA Approved, Black (Stove + Windscreen)
Iwatani Corporation of America Iwatani of America ZA-3HP Portable Butane Stove Burner Medium Metallic
12 Butane Fuel GasOne Canisters for Portable Camping Stoves by GasOne
Features
High-Efficiency Butane Burner -- This stove provides safe and efficient indoor cooking power during power outages or any other emergency.
Also Ideal for Outdoor Use -- This stove has a built-in windscreen and can also be used when camping or cooking out.
12,000 BTUs of efficient and safe indoor cooking
Comes with Carrying Case -- also great for outdoor uses
Approved for Commercial Indoor Uses
Brand
Iwatani Corporation of America
Item dimensions
4.40 X 11.20 X 13.50 X 3.10 in
4.25 X 11.00 X 14.00 X 3.74 in
Pricing / Order Info
Estimated price difference
Lowest price + 83.8% more
Lowest price + 43.4% more
Amazon Prime


Selling Best on Amazon right now

13922

3950

99999999
Product Comes from Amazon warehouse


Package dimensions
4.09 X 12.40 X 14.41 X 5.19 in
4.50 X 12.00 X 14.90 X 5.40 in
Product Identifiers
MPN;
Model;
Part Num;
Sku;
B01HHB2HK0
GS-3000+50410
B01HHB2HK0
B01HHB2HK0
Sub Category
Backpacking & Camping Stoves
Backpacking & Camping Stoves